Stager Silver Solids Interconnects REVIEW
Home Theater Accessories
AV Cables
Written by Andre Marc
Tuesday, 08 November 2011
Page 1 of 3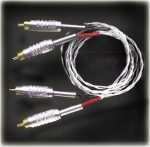 Very few categories in high end, perfectionist audio are as controversial as cables. There are endless debates about silver or copper,shielded or not, soldered or crimped, cryo'd or not, and probably dozens more age old arguments. Only one aspect of the whole topic of cables is not up for debate, and that is you need them to connect your components and speakers, like it or not. One design choice that I myself have never thought too much about it is stranded wire vs. solid core wire.
As a matter of fact, I purchased all the cables in my system based on listening evaluations rather than design features. I chose interconnect cables with silver conductors because I thought they sounded better. Same goes for my speaker cables, which have a network attached box to reduce bandwidth, and with it, supposedly noise. This type of design is generally not approved by purists, but my ears told me something else.
I switched over to silver after doing extensive comparisons in a multi part silver cable over view (
part 1
and
part 2
). I found silver to work nicely with lower level signals, in applications like the link from a CD player or DAC to a preamplifier or integrated amp. I felt silver better preserved the delicacy of these signals. I felt it made less of a difference between the preamp and power amp, and on speaker cables, which carry higher level signals. But the source is where it all begins, right?
Silver cables can be awfully expensive. A 1-meter pair of interconnects from various manufacturers can easily run into the thousands. But there are also many smaller companies making affordable, great sounding cables. Finding them often requires a little bit of digging, but there are rewards aplenty. With all of this in mind, I received two pairs of Stager Silver Solid interconnects, one terminated with RCA, and one terminated with XLR, from Marc Stager. Stager runs a highly respected sound reinforcement company in New York City. He has been making his solid core silver interconnects for quite a few years now, and has developed a loyal following. His cables start at $100 per half-meter pair for RCA, and $130 per half-meter pair for XLR.

Design and Materials:
Stager Silver Solids are a refreshingly simple and gimmick free design. They utilize a symmetrical pair of solid core, .999 pure silver wires. Lead free solder is used on all contacts. The connector of choice is the Canare F-10 RCA or a Neutrik XLR. The insulator is Translucent Teflon. Lastly, Caig DeOxit Gold coating is applied to silver for lasting anti-tarnish protection, and to the connectors for perfect electrical contact. I found the workmanship and construction to be first class all the way.
Both the Canare and Neutrik connectors are very well built, and rugged, yet cost a fraction of more exotic, extremely costly connectors like WBT. The Canare and Neutriks terminations made for very secure connections, and it would take some serious abuse to put a dent in them. Color-coded shrink wrap is also applied for channel identification.